Georgian Papers Programme Websites awarded British Society for Eighteenth-Century Studies Prize for Digital Resources 2019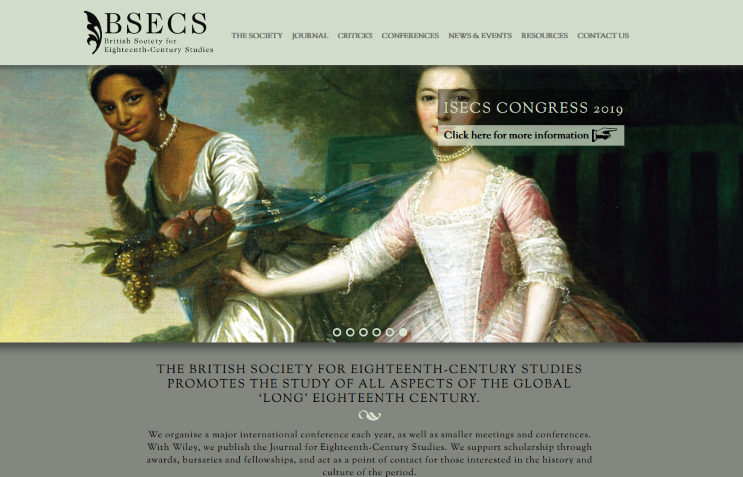 We are delighted to report that at the 48th annual conference of the British Society for Eighteenth-Century Studies, held at St Hugh's College Oxford 4-6 January 2019, it was announced that the Georgian Papers Programme's websites had been awarded their prestigious prize for the best digital resource supporting eighteenth-century studies. The prize is sponsored by Adam Matthew Digital, and is judged and awarded by BSECS.
The prize promotes the highest standards in the development, utility and presentation of digital resources that assist scholars in the field of eighteenth-century studies broadly defined. Nominated resources have to meet the highest academic standards and contribute to the field by making available new materials, or presenting existing materials in new ways; by supporting teaching of the period at university level; and or by facilitating, or undertaking, innovative research. The prize is intended to benefit the international research community, and the competition is open to projects from any country.
It is particularly gratifying to win this award given the strength of online and other digital resources for eighteenth-century studies: previous winners of the prize include London Lives, History of Parliament Online and Electronic Enlightenment.
Academic director of the Georgian Papers Programme, Professor Arthur Burns, commented: 'It is wonderful to have this recognition of our websites, the product of a remarkable collaboration between the staff of the Royal Archives, academics at King's, the Omohundro Institute and William & Mary both in the traditional and the digital humanities, and our many associated fellows and users who have contributed content to the sites. We are particularly proud that we make such content available without charge to users, and hope that this recognition will help our aim of developing our online work in exciting new directions in coming years. It is all the more valued coming from an organization which itself does so much to promote the interdisciplinary study of this period, not least in the support it offers young scholars at the outset of their careers, and in the year in which BSECS will host the International Society of Eighteenth-Century Studies congress at Edinburgh in July.'
Leave a Reply
You must be logged in to post a comment.